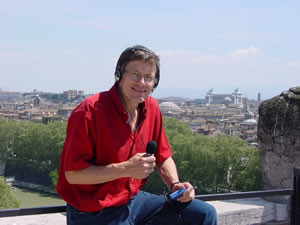 Simon Calder owes his love of travel to his parents, Nigel and Liz – and in particular their decision to move to Crawley, a new town in Sussex. He was born beside the A23 on Christmas Day, 1955. By the time he was six, he realised that there was likely to be more to life than this. Fortunately, that summer he joined the Crawley branch of the Woodcraft Folk (woodcraft.org.uk). They promptly organised a camping trip to the Lake District, and Simon was hooked.
Later that same year, the USSR decided to send some nuclear warheads to Cuba. President Kennedy threatened retaliation and Simon's parents realised that Gatwick airport, two miles away, was in the line of Soviet fire. So they took the family to Guernsey in the Channel Islands, where they stayed for a week before the superpowers stepped back from the brink of nuclear war.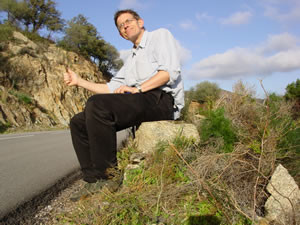 Aged 12, Simon started to hitch-hike, and discovered a world of free and limitless travel (nearly half-a-century later, he is still thumbing his way around the world, augmented by cycling.)
Simon's first job was a cleaner for British Airways at Gatwick airport. He later worked as a security guard frisking passengers. It was during the long gaps between flights (this was a while ago) that he began to write budget travel guidebooks, starting with the Hitch-hiker's Manual: Britain. He has since researched and written guides to Amsterdam, Cuba, the Americas and eastern Europe.
When not frisking or writing, Simon was reading Mathematics at Warwick University. He graduated in 1978. After a brief stint teaching Maths in Crawley, and a longer stint as radio engineer at the BBC in London, Simon became travel editor for The Independent in 1994. Soon afterwards he began presenting for BBC2's Travel Show. In 2003 he became a regular presenter for the Holiday programme on BBC1, and in 2007 presented the last film in the final programme of the series, which had run for 37 years.
In 1997 Simon married Charlotte in Las Vegas. Their first daughter was born in 2000; their second arrived in 2003. They live in London.